Are you struggling to understand native French speakers and feeling embarrassed about not being able to speak the language in a more natural way? Don't worry, you're not alone. Learning a new language can be challenging, especially when it comes to mastering the different levels of speech.
"Formal To Slang – 3 Levels of Fluency in French" is a comprehensive guide that covers everything from formal to informal French, including 150 slang words that are commonly used in everyday conversation.
One of the biggest challenges when it comes to learning French is mastering the different levels of speech. Native French speakers often switch between three levels of language on a daily basis, depending on the situation and the person they are speaking to. The more you master the language, the more you will be able to use these levels of language adaptively and choose the correct level for each situation.
The problem is that using too formal language can make you sound pretentious, while using too informal language can make you sound uneducated or disrespectful. That's where "Formal To Slang" comes in. The book provides you with 300 sentences comparing different levels of speech, along with 150 slang words that can be used in daily spoken French.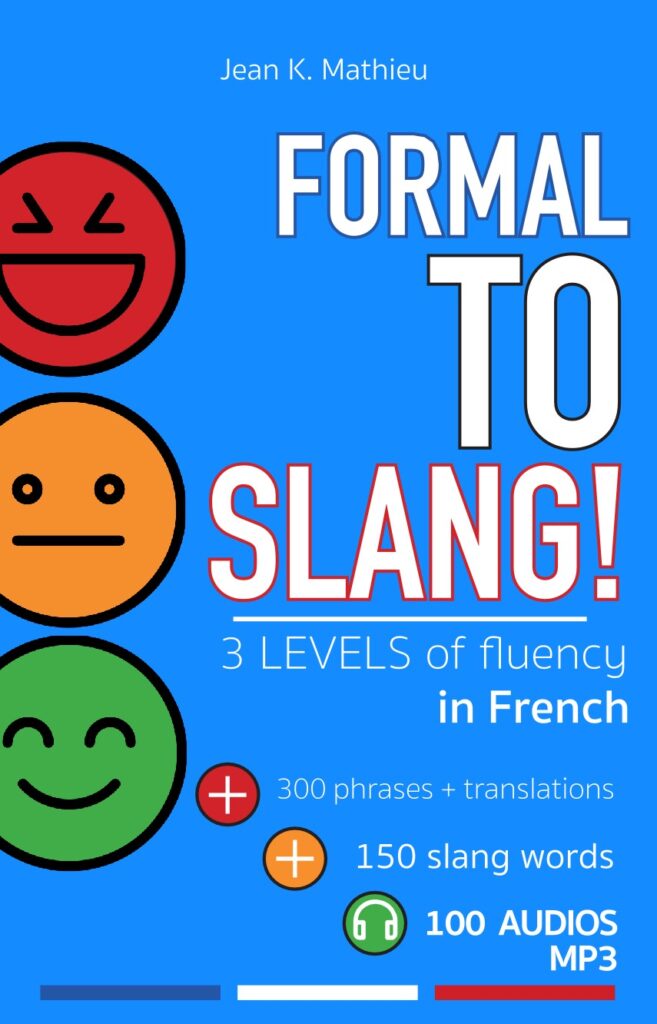 Some of the examples provided in the book:
Formal: Excusez-moi, pourriez-vous me répéter ce que vous venez de dire ?
Neutral: Pardon, je n'ai pas bien entendu. Pourriez-vous répéter s'il vous plaît ?
Informal: Hé, tu peux répéter ? J'ai pas capté.
Formal: Pourriez-vous me transmettre ce document par voie électronique, s'il vous plaît ?
Neutral: Est-ce que vous pouvez m'envoyer ce document par mail, s'il vous plaît ?
Informal: Tu peux m'l'envoyer par mail stp ?
Formal: Excusez-moi, mais je dois partir maintenant.
Neutral: Je suis désolé, mais il faut que je m'en aille.
Informal: Bon allez, j'me casse.
"Formal To Slang" teaches you how to speak French in a way that is appropriate for each situation. Whether you're at a job interview, having a casual conversation with friends, or ordering food at a restaurant, this book has got you covered.
But that's not all. The book also comes with 100 audio MP3s and 100 exercise sentences to help you practice what you've learned. This way, you can improve your listening and speaking skills while becoming more confident in your ability to speak French fluently.
If you're looking to improve your French language skills and speak in a more natural and confident way, "Formal To Slang – 3 Levels of Fluency in French" is the book for you. With its comprehensive coverage of formal, neutral, and informal French, along with common slang words, audio MP3s, and exercise sentences, you'll be speaking French like a native in no time. So why wait? Get your copy today and start speaking French like a pro!